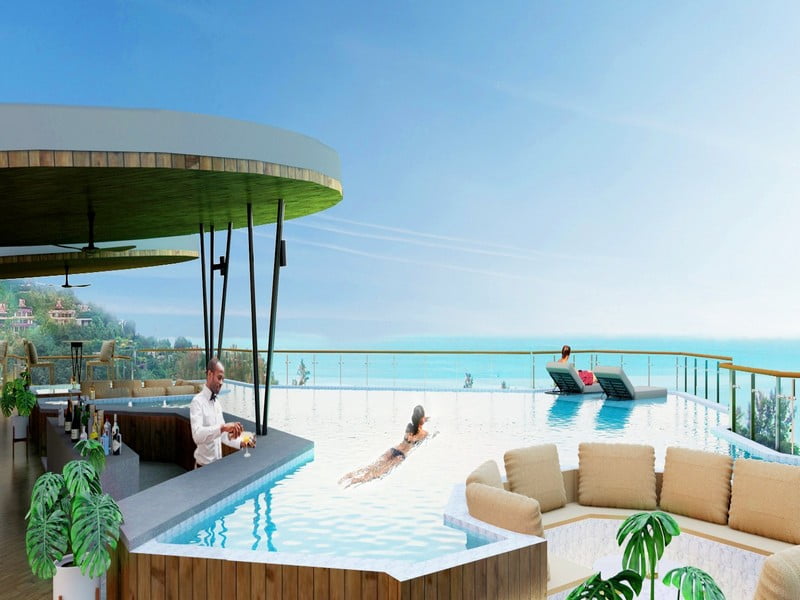 Summary
Bangtao Beach Bar, Phuket
Type

West coast Phuket Apartments for sale

City

Bangtao properties for sale

Status

For Sale
Condition

Bedrooms :

1

Bathrooms :

1

Garages :

1

Price :

THB 2,965,000

Area :

28
Description
About
An eco-friendly apartment complex close to the beach around the Bangtao / Surin area of Phuket. Perfect for long term expats, retirement investment, or for those amoung us who simple want a place in the sun to feel young again.
Unit types include studio, one, two and three-bedroom (penthouse) units each with a stylish and tasteful design. The complex will consists of two connected 8-storey buildings and on the rooftop of a larger one are found a swimming pool with pool bar and a restaurant. We also have a lot of greenery and plants, to provide natural cooling and reduce power usage. We balance the usage of eco-friendly and low maintenance material that requires no chemicals to maintain, and recyclable materials with cost efficiency and quality. We're putting the extra effort to keep it as green as possible.
To ensure maximum comfort and lifestyle, balanced with an affordable price with great rentability we implemented a modular design to take full advantage of the space. – Modular furniture allows you to change your living room into a full bedroom, that changes into a kitchen and dining room, that can be changed back into a living room, all within a few seconds.
We're also modern, up to date to make your life easy. – Wireless charging and USB plugs are standard, together with international electric sockets, so no need for travel adapters, simply plug and play.
Your lifestyle, facilities, and convenience are also a priority for us – Shuttle bus service to the beach, to the restaurants and the new central shopping mall, all within a 10min drive. Cooperation with Blue Siam Beach club for some beach clubbing and daily van to Jungceylon Patong for a set shared fee (the same price if the van is full as if 10 people. Co-driving saves the environment too).
Details
We also have a beautiful view overlooking the green mountains of Surin and Bangtao, and sea view from the 3rd floor, overlooking Bangtao beach. The Rooftop swimming pool with the attached pool bar offers amazing sea view and the rooftop restaurant will, in the evening time serve you a romantic dinner in the VIP tables built into the pool itself. Or you can just enjoy a healthy exercise in the sea view fitness center followed by a sauna and finish off with some nice pampering at the spa.Prices and Rental Program goes hand in hand with a successful investment. – We created the Guaranteed Rental pool program. 5% minimum guaranteed income per year with a 70/30 split of the net profit above the 5%, meaning, you are guaranteed a minimum but there is no maximum. We perform badly, you get your guarantee, we perform well, you get more, we perform great and everyone is happy.We will also apply for a hotel license in order to maximize the rental return.
Apartment details
Total units: 198 Units Stories: 8 Floors
Apartment Unit Types:
Studio (27 sq.m) Studio Pool Access (30 sq.m) 1 Bedroom (37 sq.m) 1 Bedroom with sliding doors (37 sq.m) 2 Bedrooms / (60 sq.m) 3 Bedrooms / (135 sq.m)
Example Unit Prices (Limited 32 units left)
Studio (28sqm): ฿2,965,000
1 bed (38.70 sqm): ฿4,780,000
2 bed (60.30 sqm): ฿7,710,000
Facilities
Complex facilities include:
Spa and Sauna
Rooftop restaurant with pool seating
24 hours security system and CCTV.
3 Swimming Pools (Rooftop also).
24 hour Reception / Lobby concierge.
3 Passenger Elevators
Sea view fitness center.
Underground Car Park.
Laundry Service.
Shuttle Bus Service.
On-Site Cafe.
Wi-Fi.
Eco-friendly concept throughout.
Rooftop swimming pool with pool bar
Rooftop restaurant
Example Unit Prices (Limited 32 units left)
Studio (28sqm): ฿2,965,000
1 bed (38.70 sqm): ฿4,780,000
2 bed (60.30 sqm): ฿7,710,000
Contact us about these Eco-freindly Apartments in Bangtao
If you are interested, and already on the island, please give us a morning time that you would like us to pick you up and show you this Eco Apartment, but please allow at least 24 hours from the time you submit this form. Please also add the name / location of where you are staying in the comments section of the form. If you are not on Phuket yet please let us know your ETA. Thank you.
Alternativly. Have a look around using the location links below.
More Kamala and the island of Phuket services we offer
Phuket island in Thailand accommodations:
If you have not already booked any accommodation on Phuket island you can find the
best Phuket island in Thailand Cottages
, and all types of accommodations, offering the lowest rates.

Back to: Home – Bangtao Apartments for sale
Location
StreetView